All Terrain Vehicle (ATV) RiderCourse Instructor Course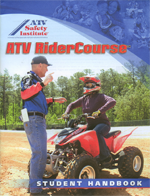 Groups who wish to train multiple employees on an on-going basis may wish to have in-house instructors available to teach the program. This course is designed to deliver a training program for potential Instructor candidates to become Certified Canada Safety Council ATV Instructors.
This Instructor's course will provide a practical environment to become qualified and to practice teaching the CSC ATV RiderCourse.
Please contact Jim for more information on pricing, dates and availability.
Instructors supply and ride their own ATVs or may arrange for a rental unit from the training facility.
Mobile training is available to groups upon request.