Ontario Hunter Education Course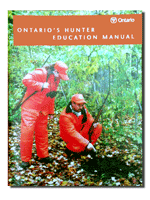 The primary purpose of the Ontario Hunter Education Course (OHEC) is to assist in developing the knowledge and skills essential to becoming a safe and ethical hunter.
The key elements are:
the importance of safe and proper firearm handling
respect for wildlife, private property and other outdoor enthusiasts
the role of modern regulated hunting in wildlife management
This course can help you adjust your skills to compensate for these changes.
Topics covered in the course are:
Hunting Ethics
Field Techniques
Role of the Hunter
Wildlife Management
Wildlife Identification
Survival
Hypothermia
First Aid
Vision and Physical Fitness
Equipment
Firearms
Bow Hunting
Legal Responsibilities
Participants must be a minimum of 12 years of age.
Fees and Duration
Stand Alone Course is 12.5 hours in duration (taken without a CFSC nor proof of previous CFSC course). The cost for the Stand Alone Course is $195.00 with examination.
OHEC One-Stop (taken in conjunction with CFSC course OR proof of previous CFSC course) is 10 hours long. The course cost for the OHEC portion is $175.00 with examination.
Both options include the manual and student kit.
OHEC Stand Alone course fee: $195.00
OHEC One-Stop course fee: $175.00