Defensive Driving Course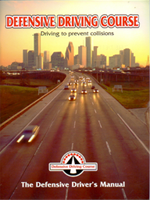 The Defensive Driving Course is designed to improve driver skills and awareness on the road by helping drivers understand how to avoid preventable collisions. Defensive driving also reduces fuel consumption. Defensive Driving Training should be included as part of workplace Health and Safety Training.
The benefits of this course can help reduce workplace absenteeism, injuries and lost time all of which may take a toll on productivity and can raise insurance costs. Fuel efficient driving reduces maintenance and fuel costs.
In Canada, 4% of drivers are involved in a collision annually. Everyone with a driver's license, whether they are driving a company vehicle or one of their own can benefit from this training. Accidents and traffic crashes can be reduced through defensive driver education. Help your employees develop life-long safe driving habits.
Alternatively, see the Professional Driving Improvement Course which is offered specifically for those drivers who operate a vehicle for a living, including those driving courier vehicles, taxis, limosines, buses, emergency vehicles, trucks, and transport vehicles.
The Defensive Driving Course is a participant-based program and may cover additional topics not listed below. The following concepts are covered:
Principles and Foundations of Defensive Driving
The Driver
Intersections
Passing
Other Road Users, Collisions and First Aid
Winter Driving
Fuel Efficiency
Aggressive Driving
The Vehicle
Alcohol and Medications
Driving Decisions